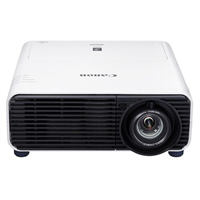 REALiS WUX500 D Pro AV
The REALiS WUX500 D Pro AV Compact Installation LCOS Projector delivers high performance WUXGA (1920 x 1200) resolution with 5000 lumens of brightness and up to a 2000:1 contrast ratio. These features combined with an advanced Genuine Canon projection lens and Canon's proprietary LCOS technology with AISYS-enhancement helps to produce crisp, bright images with exceptional color reproduction.
Along with this high brightness and high resolution, this model Includes a DICOM Simulation Mode for the display of monochrome digital X-rays, CAT scans, and MRI's with accurate color and precise detail. This special mode simulates the results of devices compliant with the Digital Imaging and Communications in Medicine (DICOM) Part 14 standard. For added flexibility, within this mode users can select from either blue or clear base and can further adjust the color temperature according to their individual preferences.
Imaging Device: 0.71" LCOS Reflective LCD panel x3
Aspect Ratio: 16:10
Native Resolution: 1920 x 1200 (WUXGA)
Brightness: 5000 Lumens (Normal)
Remotes: Wireless Infrared (supplied) or Wired (optional)
Brand :
Canon
Category :
Digital Projectors